Joe Felber by Bernice Murphy
Joe Felber has intermittently lived and worked on numbers of prolonged stays in Australia since 1980, and experience of this country has been important in the development of his art. Felber's work comes not out of the academy (he is self-taught), but is grounded in a sustained and measured personal exploration of the evolved linguistic means and tradition of art.
To come to Australia for the first time from Europe is to embark on a long voyage along one of the trajectories of European historical exploration and cultural deflection that produced a Western society evolving in the context of Pacific and Asia, savagely dispossessed.
Despite the ravages of two centuries of brutal misunderstanding of Aboriginal society and religion by dominant white (European-derived) population, any question of cultural distinctiveness in Australia is inescapably drawn to include the 'Aboriginal presence'. Aboriginal art is admired, even by those very sections of population which fail to come to term with Aboriginal social structures, Aboriginal law and an authentic Aboriginal history.
Invariably any artist coming to this country from Europe is immediately conscious of the suppressed power of Aboriginal art, and of its presence as a 'displaced Other' on the edges of white Australian art and art history. Joe Felber has been no exception to this tendency.
However a prolonged stay in Australia, and a sensitizing enquiry into the varied circumstances of Aboriginal culture and people today, must (I believe) take the European artist across the initial threshold of exoticism, into a deeper engagement that is predicated upon a judicious distance. The whole question of the Occident's use of 'Primitivism' within modern art – as a one-way discourse and appropriative raid on dispossessed cultures – is by now so well exposed as to give caution to all who seek tap into the sources of non-Western imagery without sufficient regard to the socialization of imagery in all culture.
Again: Joe Felber has taken this revised path, moving from a close-range use of ancient Aboriginal motives in some of his earlier work referring to Tasmanian petro glyphs (that survive long after their originators were wiped out by British in the 19th century to mainland Aboriginal art's presence forms (in Felber's more recent work).
The use of oxides, and often scattered application of raw pigment to canvas, the restricted earth colours, the simple manuality and 'poor' material of wood, jute and newsprint, the emphasis on drawing: all these characteristics express an interest in, and a distant acknowledgment of, Aboriginal art of the central deserts and far north of Australia. Aboriginal art is also notable for its intense visual abstraction and schematisation of meaning into an expansive radiation of interlocking symbols systems. But at the same time there are equally valiant references in Felber's works to recent European art –especially to all the forms of recuperated ancient sources, revised materials and more generalised impulses in cultural history that have evolved through the example and assimilators of Beuys.
In looking at Felber's work, one also thinks of earlier work of Jannis Kounellis, of 'Arte Povera' , and perhaps also of A.R.Penk; there are more echoes of Europeans, in fact, than of Americans such as Jasper Jones or Brice Marden. Felber's works Come out of a mobility of cultural reference, a sense of spatial provisionality and modulation through large acres of time, that distinguish his work from the more directly confronting materiality, scale and facetiousness of the American works of the sixties that might equally seen to function as exemplars.
Joe Felber is of a younger generation of artists working in the eighties, who revisits some of the concerns of art of the sixties, but deal with this material through an expanded, more mobile and transitory approach to art-making that has been authorised by the seventies. Such artists now look on abstraction in art not simply as a purgative 'movement' within the history of modernism (accompanied by its in build sanctions and moral exclusion), but as a now richly developed and available territory that has been added to the whole corpus of sources for artistic practice, along with other, quite different tendencies.
Abstraction itself – despite its puritanical drives historically towards a totally content – has itself now developed a rich and diverse iconography within its own modern tradition. moreover, it is possible to create new linkages between earlier formalist art, and more recent concerns; for instance the consciousness that we live in a sociologically mobile and transactional world, in which all cultural activity is socialized in part through the language and symbol system it employs. No activity van stand outside questions of subject and the inter-textuality of meaning (as abstraction once claimed to do).
How does Joe Felber make his own way through this territory? Felber's insisted use of letters and numerals in a larger part of his recent work marks a concern with symbols systems and the elusive, ambiguous properties of lexical items borrowed from speech and social life, translated into a region of pure visuality. However the translation of elements into the dominantly visual – into a register of intensified, formal operations between eye and mind – is Felber's work marked by a contrary tendency: an assertion of the direct, physical presence of hand- made production, in the simplest of materials.
Felber's employment of letters and numerals creates at times a sence of lattices and labyrinths, constructed to block a void. At other times space is opened up to one side of cluster of shapes, which seen to be active in a more mobile and complex space, not simply held into a quadric relationship. to the framing edge. Sometime numerals or symbols are reserved, producing an inside – out structure of viewing, a paradoxical reversing of position of the spectator, who now views as if 'from behind'. There is also an ambiguity of planes; at times one seems to be looking en-face; at other times one seams to be drawn into a kind of aerial mapping or engagement with a ground - plan.
Many of the works are small, manually suggestive in their loosly worked texture, and hang simply in close arrangements on a wall, accompanied by pieces leaning nearby, supported only by their placement on the floor. They address the space and bodily presence of the spectator, and have a circumstantial, contingent presence. One can imagine the work rearranged, or even packed and rolled into a suitcase and carried to another place entirely. In this respect, they emphasis the possibility of movement and change, of taking your culture with you, under your arms, or even carried in your head to another place, to be recreated in another set of circumstances.
The installation format which Felber adopts frequently, produces an important de- centring movement from work to work within a grouping, countering the autonomy of individual pieces, asserting a larger system of inclusion relations, of which each work is only an incidence or part. The installations produce a kind of nomadism of the eye, and a migration of content from one work to another.
The effect, importantly, is therefore not a tightly worked series or linear progression within the works (again in contrast to the American minimalists). But of a kind of constellation, with an open – network movement of radical relations, incorporating contrasting possibilities simultaneously. It is an approach to symbolic content and cultural materials which asserts relativity over a logical positivism in its negotiation of meaning.
The transaction of living and working between Australia and Europe has proved a vitalising influence in the development of Joe Felber's work, producing a ramified interplay between two different continents, with different traditions, and a richer inter – textualisation of content and form in his art.
Bernice Murphy 1988
Co-founder of the Sydney MCA and now National Director of Museums Australia and Chair of the Ethics Committee of the International Council of Museums
Jumping jerking flesh
Jumping jerking flesh (JJF) (2010) is based on moments to myself in a 2003 studio residency at Bundanon in NSW. The work involves a DVD recording in which I employ key moments of catching light and shadow. These recorded sequences are based on chance events and spontaneous movements and reflect upon my memories that surfaced of initial visual encounters with avant-garde art practices of the 1960s and 1970s. In particular, the work reflects on Bruce Nauman's early video work in his studio from 1968.
The performances of catching light and shadows reference time (sun hour) in the illusion created through the reflected window onto the studio floor space. This video work is presented in New New as a wall projection in large format to recreate the illusion of the performance. Additionally, the rhythmic swinging pendulums suspended from the ceiling encase five speakers that emit a looping sound composition. The sound includes the last song of Franz Schubert's Winterreise, (Winter Journey) titled Der Leiermann (The Hurdy Gurdy).
The references to Franz Schubert and also to poet Wilhelm Müller suggest my attempts to understand the dramatic, and to some degree musical references to human isolation. My interest in the final song, (Der Leiermann) explores isolation. The lyrics are a yearning poem, in which no-one listens, JJF reconstructs a point in time where a deceptive self-perception of the artist in his studio, a moment to himself, is recorded and achieved with body in a horizontal position.
The recorded performance JJF could suggest a reflection on the problem of isolation in our time and resuscitation from emotional distance and absence. Unsynchronised sounds from the pendulums are so unexpected that each cancels out the other, making for dissociated audio memories. What does one remember?
The experience of the work seeks to contrast two existences: the recorded video performance and the unsynchronised audio. This chance disjunction reminds me of an instance on a train ride in Berlin, where I focused on the gesture of capturing a moment with my camera, while listening to the trains changing tracks. While on a moving train myself, my camera was focused out the window recording another passing train. What the moving photograph recorded became an analytical record that brought to my attention that in relation to visual information and audio information we have a way of selecting one input over another in striving to form meanings. Effectively we thereby block out perceived irrelevancies and somehow this process relates to the isolation of subjective life meaning from all of the possible layers of information passing through the light and sound.
I would like to thank musician David Christopher for his collaboration and his sound and electronic input in making this work.
Eleven blackboards and Rêve idèle Atlas
I began the blackboard series in 2006 during my 3 years residence in Lucerne Switzerland. There I explored the blackboard as a familiar early object of encounter at school. Later on the blackboard is associated with pedagogy taken up by both artists and scientists. In this work I am attentive to the absorption of light and consider the sensitive end of perception so close to blindness.
The illusive figurative images painted in black ink, watercolour, graphite or pencil associates them with the experience of blindness. Look I am blind by Swiss painter Rémy Zaugg (1943–2005) is a work that pursues this theme. Zaugg however worked exclusively with text and in particular with the perception of text. The eleven blackboards draw attention to lived time and to hasty conclusions made routinely and with lack of perception. Works with themes like dustmade, blackabstract, add remove time highlight how we look at art.
Beyond the overwhelming world archive of images and text Rêve idèle Atlas "strikes back" as reminiscence based on photographic reference. Unlike eleven blackboards, Rêve idèle Atlas summons up the idealised space of memory. I photographed the Atlas Mountains in Morocco more that 20 years ago fascinated by their geological age. As removed as I am from the first experience of photographing them, these documents connect me with this memory. I started to cross-read this complexity of distance and time to dream or idealize the mountains through an enlarged drawing. The work has associations with that of 19th century German Romantic landscape painter Caspar David Friedrich (1774–1840). Friedrich is generally considered to be the most important artist of the movement and he calls attention to the viewer's position in observing the sublime landscape. In my works for this exhibition, projection and perception meet as an ideal place of the dreamer.
VOM STAND DER DINGE
JOE FELBER
We don't do what we want to do. We do what we expect to do. Joe Felber 2003
These paintings are an individual and personal dialogue after the book Vom Stand der Dinge: Eine kleine Philosophie des Design by Vilém Flusser. Vom Stand der Dinge (From a Point of View) is the title of my painting cycle, ongoing since 2003, based on a philosophy for design. Vilém Flusser's phenomenological study, questioned the function and meaning of design, and has inspired me to respond through the gesture of painting, in turn exploring its rationale for existence. All works are painted on wood panel 45 cm x 45 cm in oil, enamel, acrylic, pencil, charcoal and involve screen-printing processes.
Flusser's writing awakened the realization of my relation to design and the responsibility involved in designing in painting. He questioned the destruction and violence increasing in Western culture each day. Since we live and function in a designed world, we must also question how we damage lives in this endeavor. Yet how difficult and complex is the phenomenon of the object. Paintings have their own individual existence, as isolated objects, cancelled out of any utilitarian function they are to some mere irrelevant fragments that satisfy a visual desire.
These works may be realized as figurative, abstract or text paintings. The text works for example, capture conversations about design with different interpretations. The intimacy of each plays an important role in this continued cycle of paintings that brings about a rhythm in its examination of design in consumer culture. The paintings are clustered to allow for complex cross-readings and are installed in response to the architectural context.
April 2010Joe Felber
Joe Felber
Biographical Notes
Settled only recently in Adelaide, Joe Felber has lived, worked and exhibited over three continents and three decades as peripatetic nomad: his art practice a 'performance' of physical and discursive displacement. His practice is interdisciplinary and acquisitive: absorbing, assembling, composing and de-composing?playing and re-playing elements from a vast collection of fragments, each a caught glimpse (a musical notation) of a moment, a movement through public/social space (the literal spaces of landscape, architecture and urbanity, and the virtual, or constructed spaces of both written and artistic syntax).
JOE FELBER
Lastingworldfragments
Photography
Photography for me is conceptual painting; a picture in or of physical motion; a moment captured in light and colour. My photographic works are studies, like components of a sketchbook or a document that captures a moment in an urban/architectural space or a landscape.
From 1988 - 1996 my photographs recorded images of passengers in public spaces that often captured their (and my) fleeting psychological responses as the expression of a fragment of time. Chance processes change the moment of time captured by the picture. After the photograph is captured, it becomes another picture and the image takes on another meaning. In another series, I photographed black and white pictures on art and architecture throughout Europe, surveying works in the new museum boom in Germany. I photographed the contemporary art display as a cohesive interface of materials developing a new aesthetic from another aesthetic. These photographs create a virtual space from the concrete forms of architecture disrupting photographic evidence as proof of surface. There are several hundred black and white photographs in this series.
Over the last two or three years I have also become interested in the Australian landscape. The Canola fields in South Australia, which I photographed across various locations, may signal 'crunch time' for the introduction of genetically modified food into Australia. These abstract 'painted photographs' are composed of blurred fragments and become the palette of colour and movement.
All works are printed on metallic paper size h.7 cm x w.10 cm to retain the intimacy when looking through the camera viewer.
COPYRIGHT: All images and text are the artistic and intellectual property of the artist. Use of this material is prohibited unless by direct permission of the artist.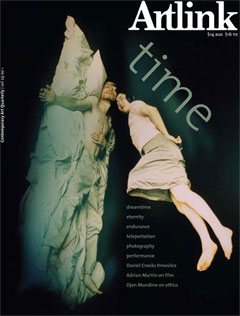 Joe Felber: Moments of time
Lisa Harms and Stephanie Radok, Feature, Artlink vol 29 no 1, 2009, pp35–38
Joe Felber's art practice is interdisciplinary and acquisitive, absorbing, assembling, composing and de-composing, playing and re-playing elements from a vast collection of fragments collected across the world in cities and art galleries.
Read full article (PDF file) of Joe Fleber: Moments of Time here
Back Issues of Artlink featuring Joe Felber: Moments of Time are available from the Artlink website: www.artlink.com.au/articles/3208/joe-felber-moments-of-time/